Lottery Draws and predictions today
Lottery
Date
Prediction
Daily Lotto
2022-07-04
View

Cold Numbers

19

1 times

35

1 times

04

1 times

17

1 times

07

1 times

Hot Numbers

36

6 times

18

6 times

09

5 times

11

5 times

13

5 times

Close
Mini Lotto
2022-07-04
View

Cold Numbers

16

1 times

04

1 times

23

1 times

06

1 times

39

1 times

Hot Numbers

36

5 times

21

4 times

19

4 times

41

4 times

10

4 times

Close
Daily Million 9pm
2022-07-04
View

Daily Million 9pm - 04/07/2022

Cold Numbers

01

2 times

13

2 times

24

2 times

37

2 times

17

2 times

35

2 times

Hot Numbers

19

8 times

06

7 times

33

6 times

09

6 times

05

5 times

04

5 times

Close
For the Daily Lotto lotto you should bet on 04, 17 and 09.
For the Mini Lotto lotto you should bet on 06, 04 and 10.
For the Daily Million 9pm lotto you should bet on 37, 01 and 04.
Lucky Numbers Dream Guide
---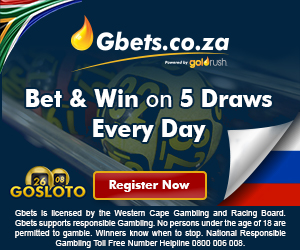 Lucky Number Predictions
Welcome to South Africa's #1 Lucky Numbers website!
Here you can find the Latest Lucky Number Predictions using Hot & Cold Numbers and the Latest Lucky Number Results. We base our lucky number predictions on historical data looking at 100's of past draws and then showing the hold and cold numbers based on these. Hot numbers mean that the number has been drawn very frequently in the past. Cold Numbers mean that the number has not been drawn frequently in the past. We also make use of our Lucky Numbers Dream Guide.

We also show the latest Promotions from all the best betting companies, so that you can enjoy playing lucky numbers often.

This site is to be used for entertainment purposes only
How do we make our Lucky number predictions
Making predictions or tips on lucky number draws is always quite difficult as statistical analysis requires lots of data to make it relevant. So our system goes back and pulls the draw results from thousands of previous draws, for all lucky number games and stores them, analysing which numbers come up more frequently than others and which ones hardly ever come up. These are often referred to as Hot and Cold numbers. We then apply a weighting to recency, as we want to see what is happening in the most recent draws taking place. The hot balls are the ones which come up most often and the cold balls are the ones which come up least often. We then use this data to predict which numbers are most likely to come up in the next draw for each lucky numbers game.

Most popular lucky numbers games
The most popular lucky numbers games include UK 49 Predictions (both lunchtime and teatime), SA powerball, SA Lotto, SA Daily lotto, Russia Gosloto and the France Lotto. Mo China is also very popular but not many betting sites have it.
UK 49 Predictions
The UK49 (lunchtime and teatime) remain the most popular lucky numbers games available. They have 2 draws per day, every day and players love it's simplicity, and that they can trust it is fair to play.
Lucky Numbers Betting
Lucky Numbers is a form of betting which allows South African punters to place bets on the outcomes of a wide range of local and international lotteries. When playing lucky numbers, you can select any of your desired numbers for a particular lotto. All lucky number bets are based on the numbers that are drawn from the respective lotto's and in most lucky number bets are subject to the rules of that particular lottery.
In the event that a lottery draw does not take place for any reason, all the valid bets on that draw will stand, but if the draw is postponed ,then all bets on that draw shall be declared void and punters will be refunded of their stake.
It is important to note that there is a difference between Luckynumbers and Lotto because when you are playing lucky numbers, you are not exactly playing into the actual lotto pools but you will be betting on the numbers that will be drawn.
In Luckynumbers, your payout is fixed and is not affected by the number of people who win like in the main lotteries. Bookmakers have a set minimum bet but you can place an even higher stake of your choice. Prefer to play online slots? Take a look at our Spina Zonke PDF Download for Best Times.

Which Lotteries are available for lucky numbers betting?
Lucky numbers are available for a number of lotteries including UK49s, Russian Goslotto, France Lotto, Eurojackpot, EuroMillions, Oz Lotto, Spanish Lotto Austrian Lotto USA Powerball, US Mega Millions, US Powerball, Greece Lotto among other lotteries from all over the world. Soon UK39s and Fast 15s
Which Bookmakers offer Luckynumbers?
There is quite a large number of bookmakers offering Luckynumbers in South Africa namely;
Hollywoodbets Lucky Numbers
Playabets
Supabets Lucky Number
World Sports Betting
GG Gaming
Betway Lucky Numbers
Scorebet
Betolimp
Betxchange
Sportingbet
Sunbet
Gbets
Bet.co.za
Playbet
How to play Lucky Numbers?
When playing lucky numbers, you need to select the amount of numbers you wish to play, but you should obviously be guided by the lotto you want to bet on, For example, France Lotto is 5/49 which means that you can only select less than 5 numbers, but you should not worry too much because bookmakers have a guide on how many numbers you should bet on on a particular lotto.
This article will focus on the French Lotto to show you how you can bet on Lucky Numbers and you can use this example to bet on any lotto you might want to bet on.
From your bookmakers website, locate the Lucky numbers link/button to gain access to the lucky numbers page.
On the Luckynumbers page, you must select your desired lotto (France Lotto 5/49) and you will see the available options for you to bet on.

1 Ball (1 Main Set) 8
1 Ball (1 Bonus) 8
2 Balls (1 Main Set & 1 Bonus) 85
2 Balls (2 Main Set) 100
3 Balls (2 Main Set & 1 Bonus) 900
3 Balls (3 Main Set) 1500
4 Balls (3 Main Set & 1 Bonus) 12500
4 Balls (4 Main Set) 25000
Bonus Ball Odd 0.9
Bonus Ball Even 0.9
After making your selection, you can input your stake and submit your bet and wait for the draw results. You need to remember that for you to win, your selected numbers must come up in the actual draw, that is, if you pick 2 numbers, both numbers must be drawn. If you prefer playing slots instead of Lucky Numbers, we have also launched a slots site, showing only legal and licensed South African online slots on MzansiSlots.
Latest Lucky Number Results
We also provide the latest Lucky Number results for all the most popular lucky number games. These include, UK49s teatime results, UK49s lunchtime results, and Gosloto 6/45 results. See all Lucky Numbers Results.